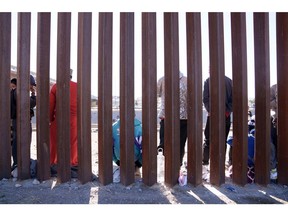 Article content
(Bloomberg) — Hello.
Article content
The big agenda : After the arduous fight last week, Congress will finally be able to get down to business. That's a good thing too, given the series of political challenges looming — including raising the US debt ceiling and funding the government. For Kevin McCarthy, however, the concessions he's had to make to become House Speaker signal a risky path ahead.
Article content
The big border visit: President Joe Biden will confront one of his biggest political liabilities when he stops at El Paso, Texas, Sunday, on his way to the so-called Three Amigos summit with Mexico's Andres Manuel Lopez Obrador and Justin Trudeau of Canada. The visit is the first since he entered the White House and comes just as the new Congress vows to probe the situation at the border.
Article content
The big stat: Like the rest of the world, US inflation data due this week are expected to show a gradual step-down in costs. The figures will be some of the last such readings Fed policy makers will see before their Jan. 31-Feb. 1 meeting and rate decision, the first with a new rotation of voting members.
The big earnings: The major banks will set the stage for a new year fraught with economic fears and a new earnings season when they deliver fourth-quarter results. Citigroup, Bank of America and Wells Fargo all report pre-market on Friday. On Tuesday, troubled home goods retailer Bed Bath & Beyond deliver its results, after warning last week it may need to file for bankruptcy.
The big conference: The health-care industry is gearing up for one of its buzziest conferences of the year, with investors and executives set to gather at the JPMorgan Healthcare Conference in San Francisco starting Monday. After a rollercoaster year for the industry, many dealmakers are cautioning not to expect a quick rebound in mergers and acquisitions.
Article content
The big deluge: Anyone going to that gathering will need to pack their raincoats. San Francisco is set to be lashed next week by one of the worst rainstorms yet this season, after days of rain have already left an estimated $1 billion in damages and losses across California. The latest storm is forecast to hit the Bay Area Monday.
ICYM our Big Take: 2023 has only just begun and to kickstart the year, Bloomberg has compiled more than 500 predictions from Wall Street and unfortunately, upbeat calls are hard to find.
And finally, looking to switch up your career in the new year? The Zero podcast talks to the people who quit their jobs to become climate warriors . Or, here's a list of the most lucrative side hustles in the US in 2023.
Have a good week. See you on the other side.