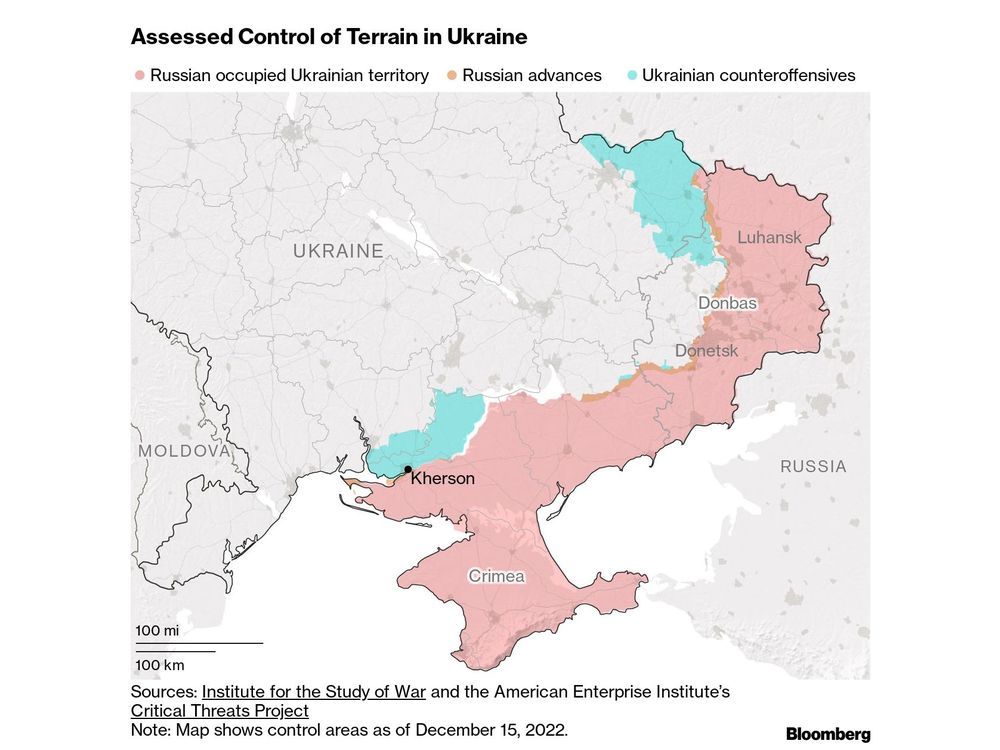 Article content
(Bloomberg) — Ukraine weathered a fresh New Year's fusillade of missile and drone strikes one day after Russian strikes damaged three schools, a kindergarten, and several private houses. Ukraine's air defense forces said it shot down 45 drones overnight.
Article content
Russia and Ukraine carried out a prisoner swap on Saturday that saw 140 Ukrainians returned to the country for 82 Russians. Such prisoner swaps have been carried out periodically during the conflict.
Article content
Ukrainian President Volodymyr Zelenskiy used a New Year's Eve address to rally his people and celebrate the country's survival. "We will fight. And when we win, we will hug," he said.
(See RSAN on the Bloomberg Terminal for the Russian Sanctions Dashboard.)
Key Developments
Why Belarus Is in Lockstep With Russia Over Ukraine: QuickTake
Putin, Xi Hold Talks as Russia Struggles With War in Ukraine
Germany's Scholz Tells Citizens They Need to Keep Saving Energy
Putin Eases Rubles-Only Requirement for Foreign Gas Purchasers
Article content
On the Ground
Loud explosions were heard in around Kyiv, including downtown, as Russia launched almost 30 Iranian-made Shahed drones, hitting infrastructure, Ukraine's military said. At least 7 people were hospitalized and 1 died in the western region of Khmelnytskyi after Russia's missile attack damaged 8 vehicles, 13 residential houses, and a fuel station. Russia also attacked the port of Ochakiv in the southern Mykolaiv region, damaging residential houses and a company, according to a military update.
(All times CET)
Finland's President Sees NATO Accession in 2023 (11:40 a.m.)
Finnish President Sauli Niinisto said he has "reason to believe" that his nation's accession to the NATO military alliance "will become reality in the course of this year," according to a televised New Year's address.
Article content
"Even in the future, Finland will bear the main responsibility for defending its own territory," Niinisto said. "Our membership will also strengthen the deterrence of NATO as a whole."
Kyiv Mayor Asks Germany for Tanks (9:30 a.m.)
Kyiv Mayor Vitali Klitschko called on Germany to send Leopard 2 tanks to Ukraine, in a guest editorial in Germany's Bild newspaper.
"We are hoping for more aid in 2023. It will be crucial for Germany to finally deliver Leopard 2 tanks," Klitschko wrote. "Without this type of tank, it will be very difficult to recapture further territory in Ukraine." He also thanked Germany for the Iris-T air-defense missile system "that means our civil infrastructure isn't fully destroyed."
Turkey, Syria, Russia to Hold New Talks (9 a.m.)
Foreign ministers from Russia, Syria and Turkey will meet in the second half of January after last week holding the highest-level gathering since the Syrian civil war erupted in 2011.
Turkish Foreign Minister Mevlut Cavusoglu said late on Saturday that he had a telephone conversation with his Russian counterpart Sergei Lavrov to discuss the timing and venue of the next meeting, according to state-run Anadolu news agency.