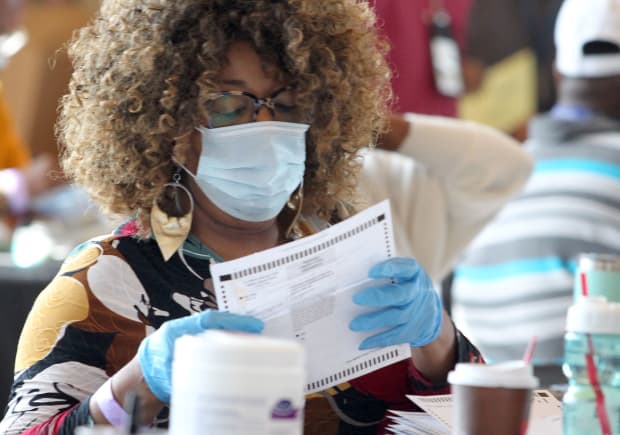 Former Vice President Joe Biden was edging closer to winning the presidency late Friday, as he led President Donald Trump in key battleground states and ballots continued to be processed late into the night.
The latest totals had Biden ahead of Trump in Pennsylvania by more than 27,000 votes, and in Nevada, where he led the president by some 22,000 votes.
Major news organizations, meanwhile, have not called a winner in those states' races, nor made a projection about the winner of the White House race.
Biden projected confidence in a brief, late-night speech, as votes were still being tallied.
"We don't have a final declaration of victory yet. But the numbers tell us a clear and convincing story: We're going to win this race," he said in Wilmington, Del. He said Americans had given him and running mate Kamala Harris "a mandate for action" on the COVID-19 pandemic, the economy, climate change and systemic racism.
Biden would clinch the White House with either a win in Pennsylvania or any combination of two wins among the states of Arizona, Nevada and Georgia.
Final margins may be slim enough to trigger recounts in a number of states, and Georgia's secretary of state, Republican Brad Raffensperger, promised a recount earlier Friday.
See: Here's what it takes to recount votes in key battleground states
The Associated Press and Fox News called Arizona for Biden on Election Night and have not rescinded their calls, but other news organizations have refrained from putting the state in the Democratic challenger's column. MarketWatch's news coverage and Electoral Map graphic below rely on the AP's calls of races.
Related: Here's what we know about the 5 states whose Electoral College votes haven't been called
As Biden closes in on a win, Trump has been pushing back through lawsuits and other means, including allegations of widespread fraud. The Republican incumbent's campaign has filed suit in Michigan demanding increased access to locations where ballots are being counted. Suits were also filed in Georgia, Nevada and Pennsylvania, and the campaign said it would ask for a recount in Wisconsin, where Biden's edge is more than 20,500 with 99% of votes counted.
See: Trump campaign alleges widespread fraud as electoral math moves in Biden's favor
"This election is not over," said an attorney for the Trump campaign, Matt Morgan, in a statement on Friday. He said Georgia is headed for a recount and alleged that ballots were "improperly harvested" there, and he claimed there were "many irregularities in Pennsylvania," as well as "improperly cast mail ballots" in Nevada. The lawyer also said the AP's and Fox's decisions to call Arizona for Biden were "irresponsible and erroneous."
Read: Republicans secure apparently inconsequential Supreme Court intercession in Pennsylvania vote count.
"Biden is relying on these states for his phony claim on the White House, but once the election is final, President Trump will be re-elected," added Morgan, the campaign's general counsel.
Amid reports that Trump had no plans to concede, a Biden campaign spokesman said: "As we said on July 19th, the American people will decide this election. And the United States government is perfectly capable of escorting trespassers out of the White House."
U.S. stock indexes DJIA, -0.23% SPX, -0.02% COMP, +0.03% closed mostly lower on Friday, ending a four-day winning streak. But they marked the best week since April as investors sifted through October jobs data, continued to monitor election results, and weighed a surge in COVID-19 cases.
Read: Dow closes lower but posts best week since April as U.S. election count proceeds.
"We expect Biden will prevail in enough of these states to be declared the election winner maybe later today but probably over the weekend," said Brian Gardner, chief Washington policy strategist at Stifel Financial Corp., in a note on Friday, as he discussed the Democratic nominee's leads in Pennsylvania, Georgia and Nevada.
"Historically, recounts rarely change the outcome," Gardner added. "On litigation, the Trump campaign's best argument might be in [Pennsylvania] where a state court ruling allowed mail-in votes received after Tuesday to be counted contrary to state law. We have doubts, however, that enough ballots would be invalidated to change the [Pennsylvania] outcome even if the Trump campaign wins this litigation."
Mike Murphy contributed to this report.