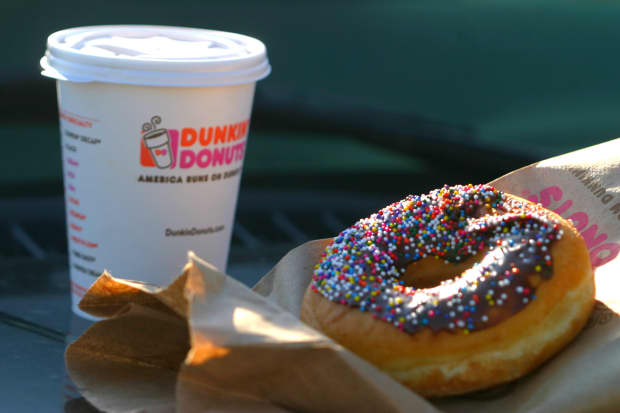 Dunkin' Brands Group Inc. is reportedly in talks to go private in a sale to private equity-backed Inspire Brands.
The New York Times reported Sunday that Dunkin' DNKN, -0.38%, the parent company of the former Dunkin' Donuts and Baskin-Robbins ice cream, could sell itself for $106.50 a share, a 20% premium over Friday's closing price, for an implied market value of about $8.8 billion. The Times said a deal could be announced as soon as Monday.
Inspire Brands, which is backed by Roark Capital, owns a number of restaurant chains, including Arby's, Buffalo Wild Wings, Sonic and Jimmy John's.
In a statement to the Times, Dunkin' confirmed that there have been preliminary talks over an acquisition, but a deal is not certain and neither side will comment further unless the transaction is finalized.
Dunkin' Brands has more than 13,000 franchised Dunkin' locations and about 8,000 Baskin-Robbins locations.
Dunkin' shares are up about 18% year to date, compared to the S&P 500's SPX, +0.34% 7% gain. After being hit hard by coronavirus-related closures in the spring, the company has strongly bounced back as states have gradually reopened, announcing in June plans to hire an additional 25,000 workers.