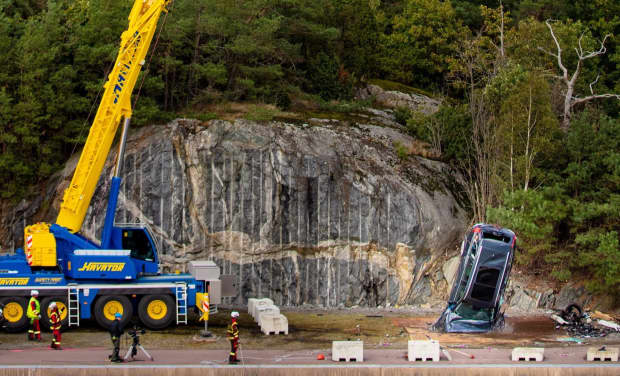 Any crash test of a car is extreme, but Volvo VLVLY, -0.30% is taking them to a new level — literally. It is dropping its cars roughly 100 feet from a crane, repeatedly, all for the sake of saving lives.
In this case, the crash tests aren't to test the safety of the cars, but to help rescue workers train for some of the worst accidents imaginable.
The test is the first of its kind for Volvo, the Swedish automaker that has long been known for its emphasis on building safe cars. Mangling vehicles in this manner goes way beyond a standard crash test, and Volvo says it's more similar to the result of an accident that would happen when a car and a truck collide or a car crashes at a very high speed.
Volvo says that in such situations getting passengers out of cars is especially dire because they are likely very injured, while all the crumpled metal makes getting those trapped inside extremely difficult. That's where extraction specialists come in. These rescue workers are specially trained for just such scenarios.
Also read: 8 easy tasks to make your car safer for winter
The vehicles they usually practice on are from scrapyards, but Volvo says those cars are often decades old and use less durable materials. By using new Volvos – some of the safest cars on the road that are made with high-strength materials – these crucial first-responders will be better prepared for rescuing passengers from a modern car involved in the most serious accident.
"Normally we only crash cars in the laboratory, but this was the first time we dropped them from a crane," says Håkan Gustafson, a senior investigator with the Volvo Cars Traffic Accident Research Team. "We knew we would see extreme deformations after the test, and we did this to give the rescue team a real challenge to work with."
This story originally ran on Autotrader.com.