Something for the weekend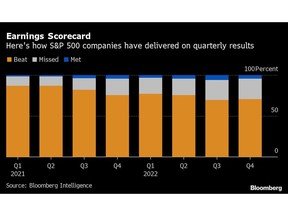 Article content
(Bloomberg) — Greetings from New York City.
Article content
It was a busy political week in the US, a sort of limbering up at the starting blocks for the 2024 national races. President Joe Biden's State of Union was about as decorous as a junior high school cafeteria. While Republicans raucously went after the president — who gave back like a man who's looking for a second term — the race among Republicans is beginning to churn. Former UN Ambassador Nikki Haley is slated to announce her candidacy next week.
Article content
The headliner though is Trump versus DeSantis. The Florida governor hasn't yet announced but is actively preparing to run: Behind the scenes, DeSantis and his tight-knit team of advisers are interviewing consultants to work on a national campaign. A retreat for roughly 150 donors, GOP leaders and lawmakers is planned for the final weekend in February at a hotel in Palm Beach, where DeSantis will tout his record as governor. In Argentina, the dominant political force of the past half century or more has long been defined by personalities over policies. Now, the Peronists can't rally behind a candidate for this year's election — not even the president himself. Meantime, the nation has become a magnet for pregnant Russian women fleeing the effects of the war in Ukraine. More than 30 expecting mothers arrived on a single flight this week, among about 5,000 since the war began a year ago.
Article content
The buying binge that has propelled US equities almost without interruption for four months is nearing a point where past rebounds caved in. And now that Corporate America's earnings season is nearing an end, the takeaway is clear: A two-year run of swelling profits is over. With the bulk of quarterly reports in, the per-share earnings of the companies in the S&P 500 Index were down 2.3% during the last three months of 2022, the first decline since the third quarter of 2020, according to data compiled by Bloomberg Intelligence.
Warming winters are creating winners and losers in the $1.5 billion maple syrup industry with Canada faring better than farms further south in the US. Sap flows during cycles of freezing and thawing, which used to come in late winter. This year some farmers in Quebec are already tapping trees, a sign of how climate change is bringing more volatility to the industry.
Article content
Why do investors dislike full employment? It's largely the danger of inflation, and the Odd Lots Podcast explores the question through the lens of Polish economist Michal Kalecki, who explored the political economy of full employment. Listen to the full episode.
Consider the phrase "immaculate disinflation." It's becoming the preferred term to describe the possibility that the Fed can erase its original sin of allowing price pressures to build to the highest in more than four decades, by zapping inflation without engineering a massive rise in unemployment. Economics isn't religion (nor science), but as Tom Petty sang, "You believe what you want to believe."
Finally, this year's Super Bowl matchup between the Philadelphia Eagles and the Kansas City Chiefs is so evenly split that even Wall Street can't figure out who might have the upper hand. The teams "seem to have been cut from the same cloth," said Matt Robinson, a portfolio manager at Allspring Global Investments, which publishes an annual view on the game's possible winner. "It's a tough one this year."