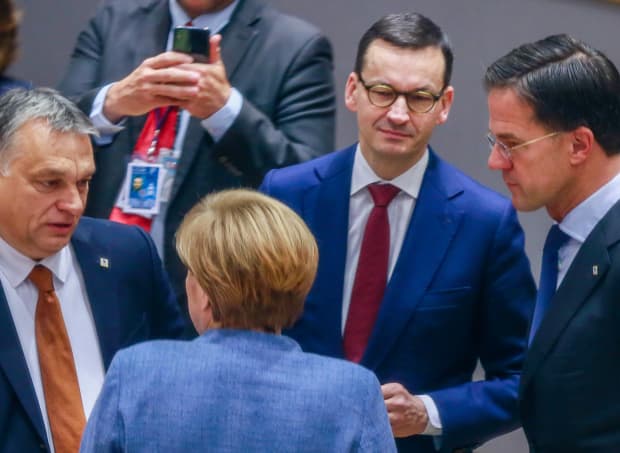 The Hungarian and Polish governments withdrew on Monday their approval for the launch of the European Union's €750 billion COVID-19 recovery fund, because of legislation that would tie disbursement of the grants and loans to respect of the rule of law by recipient countries.
The move by the far-right governments in Budapest and Warsaw comes after months of other EU members' criticism of measures in both countries subjecting the judiciary to political interference.
The principle of an EU €750 billion recovery fund was adopted in July in a decision that would allow massive joint borrowing by all member states, for the first time in the EU's history. Proceeds of the fund would go in priority to countries worst hit by the COVID-19 pandemic.
The two countries' decision also prevents the adoption of the multiyear, €1,100 billion EU budget, which had taken months to negotiate amid deep differences among member states over fiscal discipline and public spending.
German Chancellor Angela Merkel, formally chairing the EU until the end of the year as part of a rotating presidency, is now expected to seek a compromise, since decisions such as joint borrowing must be taken unanimously by the 27 member states.
The long-drawn-out dispute over human rights, public freedoms and the rule of law in the two countries has exasperated other governments, with Dutch Prime Minister Mark Rutte wondering aloud in September whether an EU "without Hungary and Poland" would be possible.
Read: EU urges Poland and Hungary to sign up to big money budget
The outlook: Merkel's task will require all of her diplomatic skills, and then some. Major concessions to the two outliers could infuriate other governments, some of whom already suspect Germany of preferring a soft touch to deal with Hungarian strongman and Prime Minister Viktor Orbán.
If Merkel agrees on significant concessions to unblock the budget, some national parliaments might in turn object when the moment comes for them to ratify the deal.
The bitter irony in this is that Hungary and Poland are major recipients of EU funds, and stand to lose much if the gridlock persists. Meanwhile, the EU recovery fund hasn't spent its first cent of stimulus. And remember that it was designed to deal with the coronavirus first wave, before the severity of the second one became obvious in the fall.
Oct. 2020: Second COVID wave brings the European economic recovery to an end