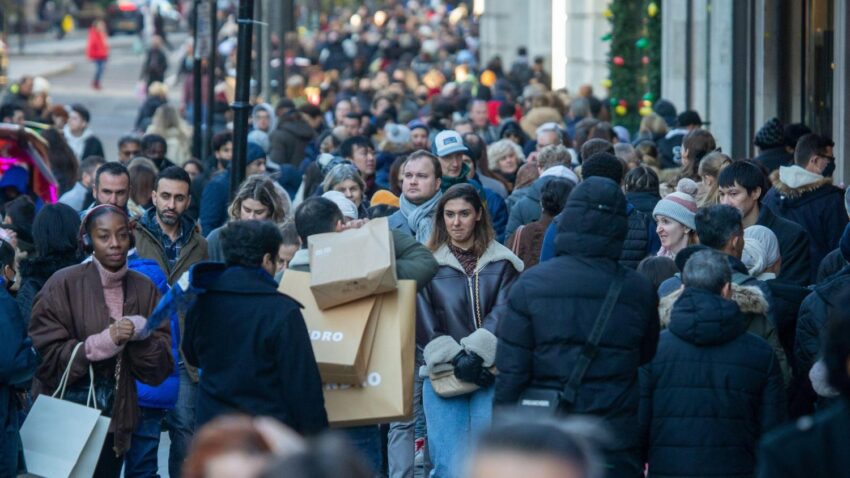 The economy grew 0.1 per cent in November, raising the possibility that the economy avoided entering recession at the end of last year.
Output edged up over the month, helped by growth in the dominant services sector, with pubs and bars enjoying a boost as people went out to watch World Cup games, the latest Office for National Statistics figures show.
The rise comes despite households and businesses facing sustained pressure from higher interest rates and rising living costs. Economists had predicted a 0.2 per cent decline.
There was a return to monthly growth in October with a 0.5 per cent rise in gross domestic product (GDP), which is the main measure of output. The reading is thought to have been flattered by contractions of 0.1 per cent in August and 0.6 per cent in September, when an extra bank holiday for the Queen's funeral suppressed growth.
GDP fell by 0.3 per cent in the third quarter of 2022. It also fell by 0.3 per cent in the three months to November. Data released next month by the ONS will confirm whether or not the UK has entered recession.
Assuming no revisions to past data, December's GDP will need to drop by about 0.5 per cent for fourth-quarter growth to be negative and the UK economy to technically enter recession. A recession is defined as two consecutive quarters of negative growth.
Kitty Ussher, chief economist at the Institute of Directors, said it is no longer certain that the economy will meet the technical definition of a recession when the final data for 2022 is in. "Today's better-than-expected data will be encouraging for businesses, but may also cause a cautious Bank of England to continue raising rates unnecessarily when they meet in early February. The risk now is that rates will rise too far if inflation is already on a downward path due to changes in global energy prices."
Samuel Tombs, chief UK economist at Pantheon Macroeconomics, said: "It is hanging in the balance as to whether the UK economy already is in recession, following November's slightly stronger than anticipated figures."
Ruth Gregory, senior UK economist at Capital Economics, said in a note to clients: "Even if the economy does a bit better than expected in quarter four, it is at best stagnating. And it is too soon to conclude the economy will be able to get through this period of high interest rates and high inflation largely unscathed. We still think a recession is on its way in the first half of 2023."
At the autumn statement the Office for Budget Responsibility said that the UK was already in a recession that it expected would wipe out eight years of growth in living standards.
Darren Morgan, the ONS director of economic statistics, said: "The economy grew a little in November, with increases in telecommunications and computer programming helping to push the economy forward. Pubs and bars also did well as people went out to watch World Cup games.
"This was partially offset by further falls in some manufacturing industries, including the often-erratic pharmaceutical industry, as well as falls in transport and postal, partially due to the impact of strikes."
Jeremy Hunt, the chancellor, said: "We have a clear plan to halve inflation this year — an insidious hidden tax which has led to hikes in interest rates and mortgage costs, holding back growth here and around the world.
"To support families through this tough patch, we will provide an average of £3,500 support for every household over this year and next — but the most important help we can give is to stick to the plan to halve inflation this year so we get the economy growing again."