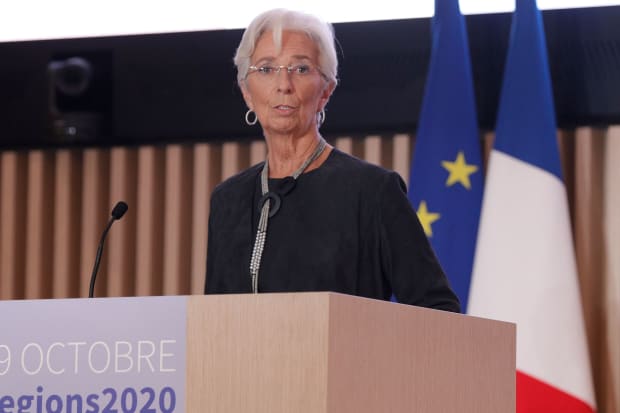 The eurozone economy seems destined to contract in the fourth quarter, as a spike in COVID-19 cases has caused governments to once again tighten restrictions on activity. But the European Central Bank is not seen as riding the rescue with more stimulus — at least not at Thursday's meeting.
Analysts say the ECB is more likely to take action at its December meeting. For now, the central bank will present new staff forecasts that will incorporate new developments, some good and some bad, such as the announcement of a European Union recovery fund, a rise in the value of the euro EURUSD, -0.17%, and a German stimulus package.
The ECB will announce its interest-rate decision at 1:45 p.m. Central European time (8:45 a.m. Eastern), followed by a press conference with ECB President Christine Lagarde.
Here's a look at what different analysts are saying ahead of the ECB decision.
| | |
| --- | --- |
| Firm | Comment |
| Goldman Sachs | "We expect ECB officials to mark down their inflation projections slightly in 2020-21 in light of the large downside surprise in August inflation and the appreciation of the euro, but keep the 2022 inflation projections unchanged. ECB officials are likely to signal that they intend to use the flexibility within the pandemic QE program (Pandemic Emergency Purchase Programme) to respond to changes in the outlook, but that additional accommodation—most likely in the form of additional asset purchases —will be needed if downside surprises on inflation persist." |
| ING | 'The recent strengthening of the euro could be one driver for such downward revisions. The stronger euro could easily lead to a downward revision of the inflation forecasts by 0.2 percentage points. However, recent ECB research stresses that the impact of exchange rate moves on inflation, as well as growth, depends on the nature of the shock and many structural factors. Interestingly, and in our view highly policy-relevant, the ECB's research also concludes that the more credibly and effectively monetary policy counteracts external inflationary pressures, the lower the pass-through of exchange rate movements will be. An open door for more stimulus." |
| JPMorgan | "On the PEPP, we already expect a further extension later this year. That the ECB has so far only used €500 billion of the total envelope of €1.35 trillion suggests little need to extend it now. But, given that PEPP has in many ways been the tool of choice, any forward-looking comment ECB President Lagarde makes about it will be important. As an aside, we note that the new staff forecast should end any discussion about ending PEPP early." |
| Evercore ISI | "Early delivery would be out of character for the internal consensus-oriented Lagarde ECB and is not our base case. The most likely outcome is that Lagarde will underscore the Council's determination to support the recovery against the new virus wave and signal that it will reassess its policy settings in December with the benefit of new projections. But under optimal policy the Council would adjust its policy settings now, and while we are generally skeptical about the Lagarde ECB's readiness to act pre-emptively, on this occasion we would not rule out it doing so, given how quickly the virus and related economic, fiscal and credit outlook are moving." |