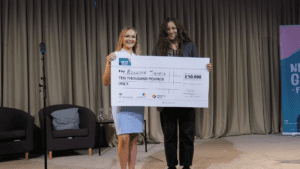 Six young entrepreneurs have just been awarded £20,000 in total as part of the Next Generation Festival.
The all day event, which took place Thursday at St. Mary's Venue, was a key aspect of The Next Generation Programme, an educational and support initiative from charity Launch It & Enterprise Nation that addresses issues of underfunding, lack of support, and lack of education and networking opportunities many young, underprivileged entrepreneurs face.
Six finalists pitched to a panel of judges that consisted of established entrepreneurs such as Bethan Aspland, founder of Pretty in Paper By B, Sam Teale, the 19 year old founder of Sam Teale Productions and Navjot Sawheny, founder of The Washing Machine Project – a grassroots social enterprise with a mission to alleviate the burden of hand-washing clothes.
Roxy Travers took the top prize of £10,000 for her business FFF, an Eco-Friendly, Anti-Racist alternative to mass consumption, the fashion & charity industry.
Jordan Hall took second place and received £5,000 for his business Fore, a clothing and lifestyle brand,
Caitlin La took third prize and £2,000 for her business Boat People Sauce, an authentic Vietnamese food brand that addresses the lack of traditional and authentic Vietnamese food products available in the UK.
The remaining three participants received £1000 each.
The funds awarded will go towards supporting the businesses of these young entrepreneurs while the event worked to raise awareness about the need for increased financial and educational support for young people looking to start businesses.
First prize winner Roxy Travers said: "I think a barrier to entrepreneurship for young people is not being taken seriously. Launch It and Next Generation give young people the ability to be taken seriously and to be an entrepreneur without to be made to feel too young to be included in the conversation. They make everyone feel welcome to sit at the table.
This grant will change my business and will allow us to expand in a way that can serve so many communities beyond the ones we are currently serving now and lead us on a trajectory to spread nationally and hopefully internationally, spreading sustainability for everyone and making it accessible.
Read more:
"Next Generation" of young entrepreneurs awarded £20,000 to help young business owners from underprivileged backgrounds