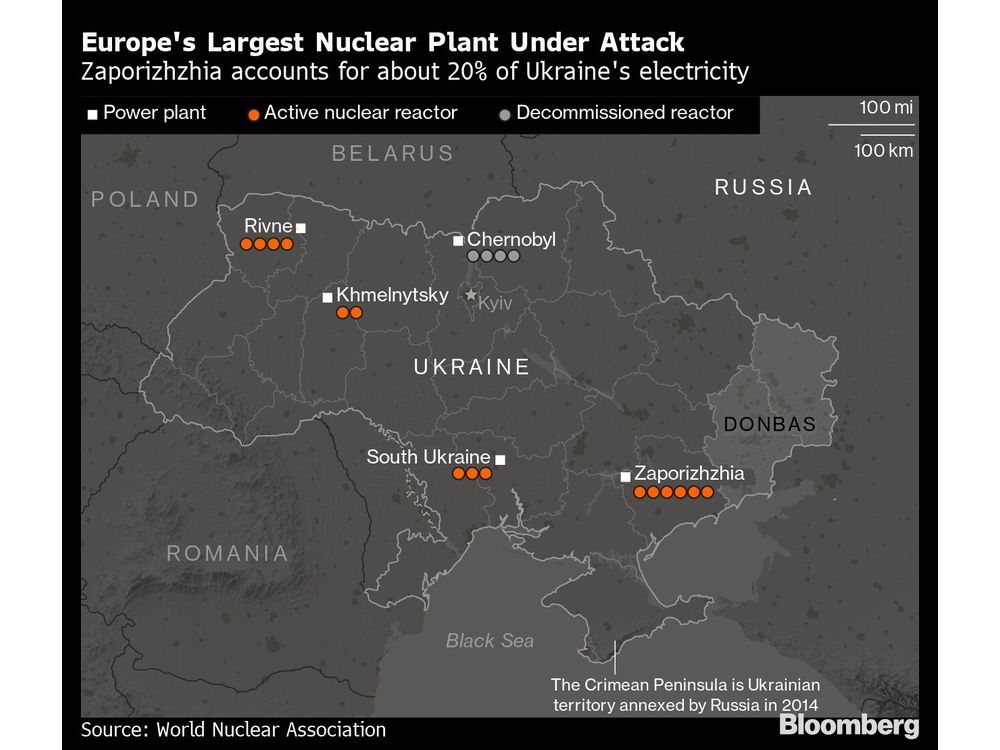 Article content
(Bloomberg) — The rising probability of military action near a Russian-occupied nuclear plant in Ukraine is forcing international monitors to shelve a proposed security zone around the site and instead concentrate on making its reactors more resilient to attack.
Article content
There are signals that new fighting may break out soon near the Zaporizhzhia nuclear power station, International Atomic Energy Agency Director General Rafael Mariano Grossi said late Wednesday. Grossi crossed the battle line separating Ukrainian and Russian forces to bring a new rotation of monitors into Europe's biggest nuclear power plant.
Article content
"There is a significant increase of troops in the region," he said. "There is open talk of offensives and counteroffensives."
That threat is prompting the IAEA to focus now on protecting Zaporizhzhia's six reactors, Grossi said. The Vienna-based agency's earlier plan to erect a security perimeter around the facility was shelved after months of diplomacy between Kyiv and Moscow failed. Ukraine President Volodymyr Zelenskiy told Grossi the initiative was doomed to fail as long as Russian forces remained at the facility.
Article content
Grossi said he's now working with officials on both sides to develop a plan "focusing more on the protection itself and the things that should be avoided to protect the plant, rather than the territorial aspects."
The Zaporizhzhia facility has been subject to sporadic shelling for months, raising concern of a radiological accident. Strikes in November damaged two reactor buildings, while others short-circuited electrical cables critical for keeping the plant safe.
"There were visible signs of damage and destruction," Grossi said. "It is obvious this area is facing a more dangerous phase in terms of the ongoing conflict. We have to step up our efforts at the plant."
Employees from Russia's state-led Rosatom Corp. are currently running the plant, and Grossi confirmed he's in contact with the operators. The Kremlin's IAEA envoy told diplomats earlier this month they've constructed new shielding to protect on-site nuclear fuel from attack. The IAEA will evaluate those measures, Grossi said.
Ukraine's top nuclear official has suggested Kyiv's forces could seize back control of the Zaporizhzhia plant after a push toward the southern city of Melitopol takes place.