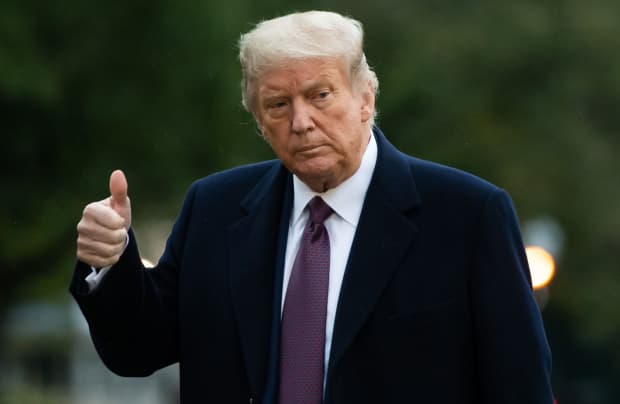 "  "I condemn all white supremacists. I condemn the Proud Boys." "
That was President Donald Trump on Thursday night, finally saying the words he was sharply criticized for not saying at Tuesday night's debate.
During a Fox News phone interview with Sean Hannity, Trump attempted to quell the furor caused after he failed to explicitly condemn white supremacists at the debate, instead saying the Proud Boys should "stand back and stand by," a message the far-right group reportedly took as encouragement for their cause.
"I've said it many times, and let me be clear again: I condemn the KKK," Trump told Hannity. "I condemn all white supremacists. I condemn the Proud Boys. I don't know much about the Proud Boys, almost nothing. But I condemn that."
Trump also said Joe Biden should condemn antifa, who he called "a horrible group of people."
A study earlier this year by the Center for Strategic and International Studies found that right-wing extremists have been responsible for significantly more violence in the U.S. than far-left groups over the past two and a half decades, including 90% of political violence through the first half of 2020.
During the Hannity interview, Trump also attacked Fox News reporter John Roberts, who earlier in the day pressed White House press secretary Kayleigh McEnany on the issue of white supremacy and told viewers: "It's a question that needs to be asked. … So stop deflecting. Stop blaming the media. I'm tired of it." Roberts also questioned Trump's claim that he did not know who the Proud Boys are.
Trump was harshly criticized for his remarks at the debate, with a number of prominent Republican lawmakers calling on Trump to "correct" his comments.