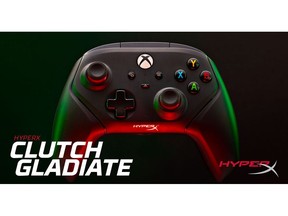 Article content
Elevate Your Gameplay Control with New HyperX Clutch Gladiate Wired Controller for Xbox
Article content
FOUNTAIN VALLEY, Calif. — HyperX, the gaming peripherals team at HP Inc. and brand leader in gaming and esports, today announced it is now shipping the HyperX Clutch Gladiate Wired Controller for Xbox. Designed for serious Xbox gamers, the new Clutch Gladiate delivers comfort and control for extended console gaming sessions.
Article content
"HyperX's range of Xbox accessories are designed to enhance the gaming experience for console players," said Aurelius Martinez, global category manager – cloud and console gaming, HyperX. "The new HyperX Clutch Gladiate brings players into the action and enables extended customization and control."
Offering new levels of comfort, performance and control, the Clutch Gladiate Wired Controller for Xbox features dual trigger locks and remappable rear buttons, delivering a customizable gaming experience. The two-position trigger lock also allows users to switch between a short trigger pull and a long trigger press.
Additionally, the controller offers two remappable buttons that can be set without additional software. The controller is also equipped with powerful dual rumble motors that enhance immersive gaming and provide intuitive force feedback cues, as well as textured grips for a secure hold and a 3.5mm stereo jack for easy wired headset connection. The Clutch Gladiate is Licensed under Designed for Xbox and fully compatible with Xbox One, Xbox Series X|S, and PC, ensuring seamless use across all platforms.
Availability
The HyperX Clutch Gladiate Wired Controller For Xbox is now available through HyperX US Shop for $34.99. For more information on HyperX console accessories, please visit HyperX.com.
Pricing from HyperX.com is subject to change without notice. Retailer pricing may vary.
HyperX Clutch Gladiate Wired Controller For Xbox Specifications:

Part Number

6L366AA

Controller Specifications

Connection Type

Wired

Compatibility

Xbox Series X | S, Xbox One, PC

Inputs

USB-C, Mic (3.5mm stereo headset jack)

Outputs

Headphones (3.5mm stereo headset jack)

Physical Specifications

Length (metric)

155mm

Width (metric)

110.56mm

Height (metric)

64.68mm

Weight (metric)

280g1

Length (imperial)

6.10in

Width (imperial)

4.35in

Height (imperial)

2.54in

Weight (imperial)

0.61lbs1

Cable Type

Detachable USB-C to A Cable

Cable Length (imperial)

2.95m

Cable Length (metric)

9.76ft

1With cable weight
About HyperX
Article content
For 20 years, HyperX's mission has been to develop gaming solutions for every type of gamer and the company is consistently recognized for delivering products that provide superb comfort, aesthetics, performance, and reliability. Under the tagline of "WE'RE ALL GAMERS," HyperX gaming headsets, keyboards, mice, USB microphones, and console accessories are the choice of everyday gamers as well as celebrity ambassadors, pro gamers, tech enthusiasts, streamers and influencers. Visit www.hyperx.com.
About HP
HP Inc. is a technology company that believes one thoughtful idea has the power to change the world. Its product and service portfolio of personal systems, printers, and 3D printing solutions helps bring these ideas to life. Visit https://www.hp.com.
Editor's Note: For additional information or executive interviews, please contact Mark Tekunoff, HP Inc., 17600 Newhope Street, Fountain Valley, CA USA 92708, mark.tekunoff@hyperx.com or Hyperx_PR@hyperx.com.
HyperX and the HyperX logo are registered trademarks or trademarks of HP Inc.in the U.S. and/or other countries. All registered trademarks and trademarks are property of their respective owners.
View source version on businesswire.com: https://www.businesswire.com/news/home/20230327005112/en/
Contacts
Mark Tekunoff
HyperX
714-438-2791
mark_tekunoff@hyperx.com
Dana Gomez
Walt & Company for HyperX
530-249-4955
dgomez@walt.com