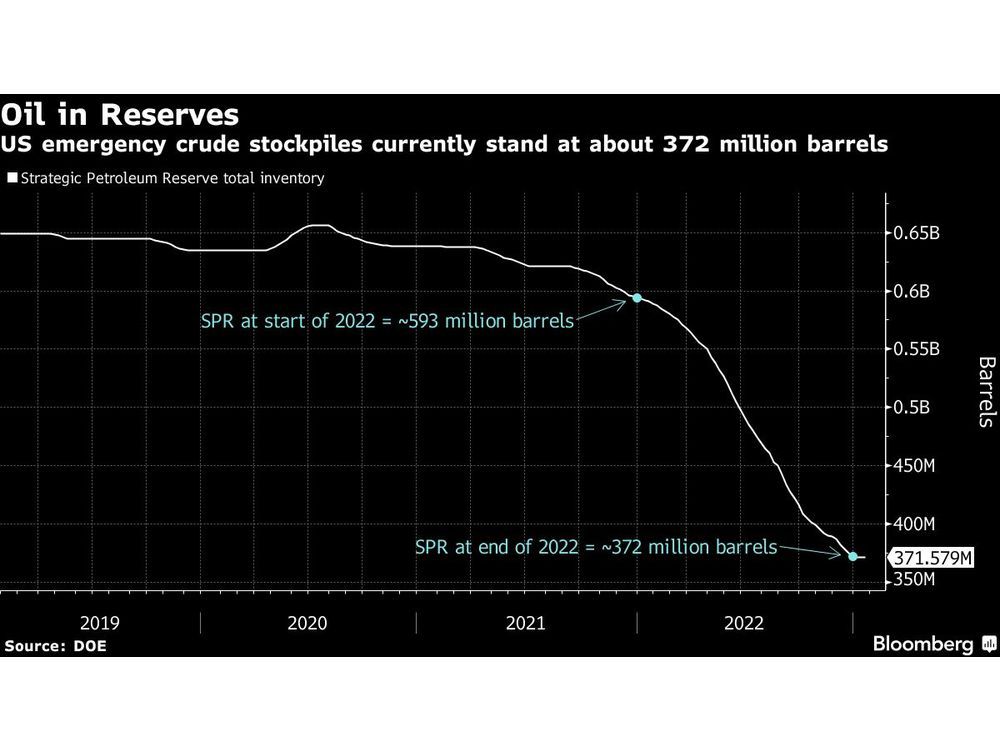 Article content
(Bloomberg) — Legislation that would tie the release of oil from US emergency stockpiles to more federal oil and gas production was passed by the House, as Republicans use their majority to highlight the Biden administration's historic drawdown from the Strategic Petroleum Reserve.
Article content
The Strategic Production Response Act, which was approved by a vote of 221-205 on Friday, would bar the Energy Department from releasing oil from the SPR unless it creates a plan to increase leasing on federal lands and waters. The restriction wouldn't apply in cases where there is a severe energy supply disruption, according to a summary of the legislation.
Article content
The bill, which President Joe Biden has vowed to veto, isn't expected to become law. But the measure gives Republicans a chance to spotlight the administration's 180 million barrel release from the Strategic Petroleum Reserve last year, a move they have cast as misuse of the oil reserve in an effort to lower gasoline prices before the November midterm elections.
Article content
"At a time when gas prices are on the rise, Secretary Granholm and the Biden administration need to be transparent with the American people about their efforts to cover up how they've abused the Strategic Petroleum Reserve as an election-year gimmick," said Representative Cathy McMorris Rodgers, the Washington Republican who authored the bill. "Republicans want durable, long-lasting relief at the pump."
Read more: White House says GOP energy bills will boost fuel costs
The White House has said the release of oil from the reserve was needed to address price spikes caused by Russia's invasion of Ukraine and ensuing supply disruptions. And it has accused the GOP of trying to raise gasoline prices for Americans by pushing the legislation, while touting the fact that costs at the pump have dropped about 30% from highs that peaked at more than $5 a gallon last summer.
"The bill would significantly weaken a critical energy security tool, resulting in more oil supply shortages and higher gas prices for working families," the White House said in a statement regarding the House legislation, H.R. 21. "By interfering with the United States' ability to release oil collectively, this legislation would help Putin's war aims."