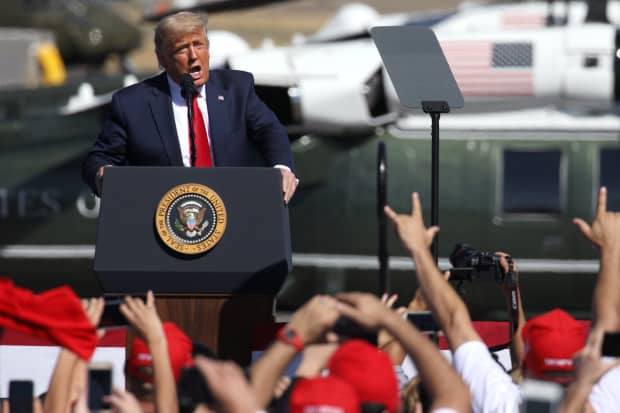 ExxonMobil Corp. on Monday wanted to make one thing perfectly clear — it did not bribe the president.
Some had actually wondered, after President Donald Trump offered an oddly specific hypothetical situation during a speech earlier Monday in Prescott, Ariz.
Trump was boasting about his fund-raising ability: "I call some guy, the head of Exxon. I call the head of Exxon. I don't know. … 'How are you doing? How's energy coming? When are you doing the exploration? Oh, you need a couple of permits?' But I call the head of Exxon I say, 'You know, I'd love [for you] to send me $25 million for the campaign.' 'Absolutely sir .. would you like some more?' "
"If I made the call, I will hit a home run every single call. I would raise a billion dollars in one day if I wanted to. I don't want to do that," Trump said.
Late Monday, Exxon XOM, -1.99% tweeted this statement, just to make it clear that the hypothetical "never happened."
For what it's worth, what Trump described — which, again, was a hypothetical — is illegal, as federal law bars policy favors in exchange for campaign contributions, and his comments got the hashtag #QuidProQuo trending on Twitter.